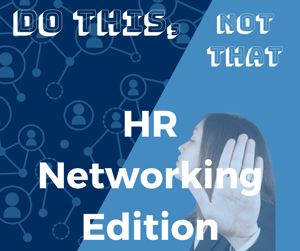 Whether you're looking now or have plans to look for a payroll or HR position… someday… networking is the best way to be considered as HR positions come open. Ever hear the phrase "It's not what you know. It's who you know."? Of course, you still need the skills to land your next HR position, but being a known commodity is often a differentiator between hired and not.

Networking can also help you meet people that can mentor you and maybe even acquire new skills! But how do you even get started – the advice to "network more" is a bit hollow without knowing the questions to ask yourself as well as where to find the answers.

SHRM, APA and other industry events are important, but look to expand your attendance beyond these organizations. Alumni events, meetups for people with other interests, and gatherings you find on places like LinkedIn can all be the key to advancing your career. They can even help land your next payroll or HR opportunity.

Before you go to a networking event, make sure you have reachable goals to make meaningful connections. You may choose to do some research to find out who will be at an event to pre-select who you'd like to meet. Taking this one step further, find out whether an existing contact can make an introduction either ahead of time or at the event. Here's our quick list of some other do's (and don'ts) of networking…
Do:
Dress appropriately for the event. We're more and more casual in everyday business attire so this doesn't mean you need to wear a suit. Dress like you would for an important professional meeting – because that's what these are!
Put yourself out there. Yes, going is step one of this, but attending is not enough. Make an effort to introduce yourself and meet new people -it's a networking event, it's what you're all there for.
Understand that today's assistant might be tomorrow's VP – be respectful and courteous to everyone.
Follow up the day after with a personal LinkedIn message. If you're taking someone's business card, it's allegedly worthwhile to follow up and easy to do so. A "pleasure meeting you and/or I appreciated our discussion about..." is always well-received.
Have your own business cards ready. What's the point of networking if you aren't easily reachable? If not business cards, then what can you do to move the connection past the single event.
Make meaningful connections. The goal isn't to get the most business cards but rather to have discussions and "get to know you" discussions with people who will remember you. Be yourself as this is an opportunity to make authentic professional connections.
Don't:
Be late. Leverage the time you have as most don't last very long. Get the most out of your networking events.
Over-do-it. Have you ever been at an HR networking event with someone who is all over the place, taking the approach that "he who collects the most cards, wins?" Don't waste your time trying to meet every single person HR professional at a networking event. Instead, find people who you will make a meaningful impression with.
Dominate someone's time. While you want to make meaningful connections, remember that the people you are meeting are there for the same purpose. Find a balance in connecting with a meaningful discussion and completely dominating someone's time, reducing their ability to meet other people. Knowing when to say goodbye can be just as memorable as being the person who "talked to me all night."
Over-indulge. Stuck with the one plate and one drink rule. You may think you have it handled, but why risk it? You can drink and eat after the event is over.
Overshare. Keep your conversations focused on professional details before you get into the personal.


Networking isn't as daunting as it sounds. Strong HR professionals with long and healthy careers take the time to attend these events, you should to. And when you do, find me or one of my Willory colleagues and make an introduction!