Tools that will help save you time and energy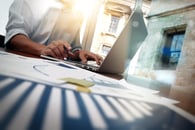 It's hard to stay organized with your schedule when you have a busy job in HR or payroll. Take for example, those of you who are payroll managers for mid-sized companies (and if you're not, I'm sure most of this still applies to you). Your regular responsibilities include running the payroll for over 600 multi-state employees, constantly monitoring the company benefits packages, and overseeing the 401k plan (to name a few). On top of this, you have annual duties such as audits, tax reporting, and then the unexpected meetings that pop up. I haven't even mentioned that you have a busy life at home. Staying organized is sometimes intimidating and difficult for professionals at any level. Sometimes the mere act of writing our to-do list makes us more overwhelmed.

I encourage you to try these organizational tools that you can use to help make you more productive at work. If you click the product name, you'll be taken to their website where you can download the resource.
Trello

Free, Business $10/month, Enterprise $21/month
Multiple people on the Willory team recommend and use Trello. Not only does it allow you to make different lists and categories, but it allows you to collaborate with your team and even functions as it should on a mobile device. My favorite feature is that Trello can send you a notification on your phone any time a board is updated. Overall, Trello is a fantastic tool from a visual perspective and allows the user to keep different goals in different lists to keep things organized and prioritized. There is plenty of room to keep track of each task you have to do – big or small – and allows organization, easy accessibility, and the ability to collaborate with colleagues.
Smartsheets


Personal $14/month, Business $25/month

Smartsheets is comparable to Trello, however, it is more advanced and well suited for large projects. It takes the classic spreadsheet design and allows users to track their progress and project goals within each sheet (that's the smart part). It is a very team-oriented application which works well for our consultants as they manage advanced projects. It allows many customizable options and keeps data organized and accurate. If you are looking to revamp everything you do in terms of organization and have advanced details included this might be the tool for you.
Boomerang
$15/month, team packages available)
Do you find yourself sending emails and not getting replies on time? Reviewing and waiting for email replies can eat up more time than you think. Boomerang is a plugin that sends notifications when you don't receive a timely response. Rather than digging through your messages, you can set a timeframe for an automatic reminder if your recipient doesn't answer. This tool is great because it helps to avoid missing deadlines as well as having the notorious stack of unorganized notes. Boomerang also allows you to schedule emails instead of sending them right away through a typical webmail server. This is great for those of you who catch up on emails at weird hours.
FindTime
Free
John recently showed our team this tool and it saves a lot of time… and confusion. Do you consistently struggle with coordinating meeting because of diverse schedules? No more spending time on that or worrying about not having that info accessible while scheduling a meeting. FindTime is a plugin that allows your entire team to show their availability within the Outlook suite. This way If you are sending out an invite for a meeting you can see which recipients are free and are able to coordinate meetings that will work for everyone...without 20 emails back and forth.
The Classic Paper Agenda
$5-$50at your local office supply store
Although this tool doesn't work for everybody it is often underestimated. I highly recommend always having a paper agenda. It will allow you to focus on the main points of each day throughout the week instead of every single meeting or task you must complete. It will also help avoid conflicts between your time in and outside of work. Using this in conjunction with your Outlook calendar, Trello board, Boomerang emails will enable you to have a short-term and long-term vision of what you need to accomplish each week.