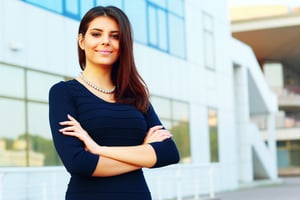 One of the most significant issues I've seen while working with top talent in HR and payroll is that many professionals don't manage their careers effectively. My best advice when it comes to managing your career is to think of it as your own business. By shifting your approach, a new perspective of ownership emerges.
What can you do to improve your skill set and develop your professional network? I challenge you to make a list, select your top three points, and to make them a priority for the next few weeks. When you manage your career like an entrepreneur, you will not only get more out of it, but you'll be able to give more to others who are building their careers.
Develop Those Skills
Companies are seeking candidates with proven skills and experience to succeed in their organizations, and the best way to acquire new skills is to take the role you have and develop it into the position you desire it to be. There are many ways to achieve this, some including working with your supervisor to join a project that will help you gain those skills or take on additional responsibility to support other departments. Over time this could even present the opportunity to advance into a new role with your current company. The best thing you can do to develop the skills you want to possess is to analyze what those are and align yourself with people in your company that have those or similar capabilities.
Brand Yourself
Creating a personal brand is an essential step to helping other professionals remember you and growing your identity. If you haven't explored this yet, you should, go on LinkedIn and showcase your knowledge to your colleagues by becoming a thought leader on subjects relevant to your career and industry. LinkedIn is a great place to make a name for yourself through content sharing and connecting with other professionals in your industry. Utilizing an active social media presence to stay connected with those who are meaningful to your career is another a great way to keep on top of the industry trends while continuously learning more and honing your craft.
Creating allies in the market – such as colleagues at the same level in other companies or connecting with a mentor – to teach you how to progress in your industry can help provide support and encouragement. They might even become contacts for future roles and networking opportunities.
Diversify Your Industry Experience
How do you find the right balance when trying to switch jobs in your career? Staying with an organization for an extended period shows longevity. However, this can also be a curse of missed opportunity. Staying in one industry has the potential to diminish versatility and can be limiting, but working in various industries provides more opportunities to gain the attraction of future employers. Having diverse experience can have a positive effect on how you do your job as you continue to perfect your craft. Whatever the case is for your specific career path, be sure to include the diverse experience you have had on your resume. Check out the resume building page on our website.
Be Passionate
Show passion in your work by going above and beyond in your job and with your craft. Even if you aren't in the role you'd like to be in showing passion demonstrates excellent work ethic and will earn you the respect of your co-workers and leadership team.
Perfect the process- This is a great way to show passion in your work. Learn how your company wants your role to be operated and do it to the best of your ability. Doing this puts you in a high position to make suggestions on ways to improve upon the process.
Don't Give Up
Don't give up on your career goals! The process of developing your skills, branding yourself, gaining diversified experience, and earning the trust of your team as well as leadership is part of your equity. When you put the work in and make incremental changes, you will eventually get to the position that you've worked so hard to earn.
No one cares about your career as you do. Make sure you take the time to own it and develop it into what you want.