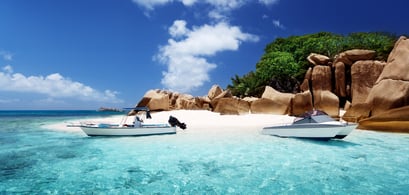 As we put last week's polar vortex behind us, we can't help but dream of warmer weather and cruising across Lake Erie. Luckily, NOHRC is here to lift our spirits with this year's theme of Anchors Aweigh. Celebrating all things nautical and once again at the Huntington Convention Center of Cleveland, NOHRC 2019 promises to take you to uncharted territories and away from the age-old adage of "we've always done it that way."

We know many of you have spent considerable time on a boat, but in case boating terms are a foreign language, we want to provide a review of the primary terms, how they apply to NOHRC, and your career in HR.
Forward
This is when the boat is moving towards its front end. When it comes to your career, this means you are in a progressive role, gaining equity as an employee, and performing well for your organization. Hiring managers and recruiters are often looking for HR leaders who understand how to move forward in their career by taking on new roles and responsibilities.

Stern
This is the rear end of the boat. We can correlate this to HR in the way that we understand that even the employees who are at the bottom of the organizational ladder or behind-the-scenes play an important role. Just like in boating where both the bow and stern have to be in working order to be successful, so does the organization's leaders and workers. Don't forget about the oft-overlooked employees who make your organization run. Make sure your communication – and that of the company leaders – is meaningful and sincere.
Bow
This is the front end of the boat. As an HR professional, an important part of your job is to holistically learn about the companies in which you work. Due to the nature of the work you get to provide day-to-day services for employees more than anyone else in the organization. With that don't ever forget all the hard work and determination that you put into each day. Conferences like NOHRC are a great way to recognize HR professionals like you who steer their company each day. Don't be afraid to take a bow (get it?) or moment of recognition at NOHRC when you are recognized for your accomplishments.

Underway
This is when a boat is moving in general, whether it is by wind or motor. Whether you are a student, in an entry-level job, or have been an HR professional for many years we are all underway in our career. Every day is a chance to make the best out of yourself and take your professional skills to the next level. If you're ready to take the next step in your career, check out our open careers page. We have openings at all levels, as well as temporary and direct hire.

Open Jobs
Astern
This is when a boat is moving backward. Talented HR professionals can easily fall back in their career due to the loss of a job or other unexpected career change. With emerging technology and layoffs, it can seem as if there are more changes than we would all like. We recommend being proactive by staying connected to your network (online and in person), involving yourself in local HR associations, and acting as a positive influence on the company by practicing emotional intelligence.

Heel/List
Heel is when the boat is off axis due to wind and list is when the boat is off axis due to taking on water or other damage. At times our careers can heel or list, but the important thing is to accept what is going on, looking into solutions, and get back on track or add a new course altogether. Whatever it takes don't let things within your control stop you from moving forward in your career. Head over to some of our top articles to help get you back in forward motion.



We look forward to seeing you at NOHRC on Friday, March 22. Stop by our booth for prizes as well as opportunities to meet our team and network. At the tail end of the day check out Willory Founder and President John Bernatovicz's high energy presentation on how to HR Like a Boss at 3:15 pm.



Boating terms captured from: https://www.wavesboatclub.com/blog/51/15-Basic-Boat-Terms