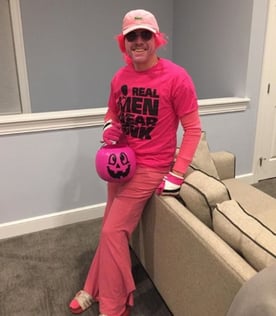 I hate cancer. It has affected so many great people that I know including several immediate family members. My mom, dad, and sister are all cancer survivors while we (not unlike other families) lost family members much too early in their lives. We still feel the impact of their loss every day, even as many years have passed since they lost their fight.
Because of this personal connection, when Sarah Wells, executive director of the American Cancer Society, asked me to participate in their Real Men Wear Pink fundraiser, I immediately responded, "yes." At the time my sister, Terese, was in chemotherapy treatment and I wanted to do what I could to help raise awareness and money for the fight against breast cancer.
At the same time, Willory was considering a more formal and purposeful approach to giving back to our community. One of Willory's corporate values is to "uplift our family, faith, and community" and it was with this in mind that it was important for me and the entire company to participate. For us, our values are much more than words. They are tenets we use to guide our decisions, actions, and path.
In order to drive awareness and raise funds, we went "all-in" as a family and company. So, for the entire month of October, I wore pink as part of the campaign and learned quite a bit about myself, my firm, Willory, and this terrible disease. Here are a few of the things that grabbed my attention the most:
THE PERSONAL STORIES
I was surprised, saddened, and thankful by the outpouring of personal stories from people that were impacted by some form of cancer. So many people opened up and shared about their loved ones taken too early in life or described a current battle being fought against cancer. While Real Men Wear Pink is focused on breast cancer awareness and research, it was apparent that all forms of cancer are devastating and have their ugly grip on our community.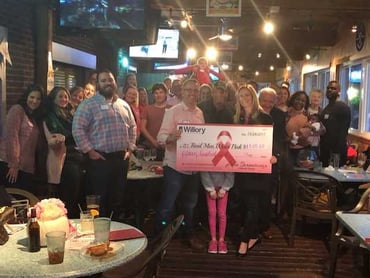 IT GETS PERSONAL
When raising money for something like cancer, which can be very personal, you must get personal, too. My fundraising efforts were varied and many. Personally I participated in video and photo shoots, posted on social media daily, encouraged my acquaintances to donate via individual emails and texts, and working with my sister's school to help raise $142.76 during a dress down day. On a professional level, I changed my email signature to include a post script with information about my fundraising efforts, put an "out-of-office" message on my email for the entire month encouraging people to donate, and collaborated with several clients who placed donation boxes in their companies. As an organization, Willory participated by dedicating our seventh anniversary party to the cause, including hosting a 50/50 raffle that raised over $500 and a silent auction that consisted of Cavs tickets, a travel voucher donated by ERC, and a Pampered Chef basket donated by my sister's grade school friend.
SUPPORT CAME FROM MANY PLACES
The outpouring of support from my family, friends, colleagues, clients, and complete strangers was amazing. I was truly humbled by the positive reaction to the campaign.
COMPANY AS A COMMUNITY
The Willory staff was incredibly encouraging and supportive with their donations, time, and participation in our fundraising event. It was quite the site to see 60+ people at our seventh anniversary/fundraising event dressed up in some shade of pink. The fellowship and comradery was touching to see. Our anniversary party was very different than other year's and it felt like it was something much bigger than Willory.
WE CAN MAKE A DIFFERENCE
My sister, Terese, got behind this fundraiser as much as I did. She was still in her treatment and did everything she could to help me including Facebook shares, words of encouragement, efforts at her school, and a donation from her family. When I shared with her how much we raised, she said it brought a tear to her eye as she knows the advances made because of research and funding allowed her medical team to more effectively treat her form of breast cancer.
WEAR IT WITH PRIDE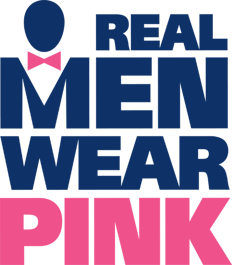 Turns out, I found 31 different things in my wardrobe that I could wear that were pink. I set a goal to wear something different and had to borrow a few things, proudly wear what was given to me by the American Cancer Society, and buy a few things (as well as accept a few gifts from people) that were pink.
With a joint effort, we received 89 donations online donations and raised over $10,370. My final point is not one to take lightly. If you have not been to your doctor or specialist recently for an annual physical, please consider making an appointment.
Stay strong.