There's a plethora of HR technology solutions for companies of every shape, size, need, and specialization in the marketplace today. With so many options to consider, it makes sense to get out of the weeds and take a look at HCM systems, big picture.
So which HCM system is right for you and your company?
First, one recurring theme has been the reemergence of best-in-class integrated platforms. Large, cutting-edge organizations are leading the way as it is becoming more possible every year to streamline the employee experience with simplified integration capabilities. But what about small and mid-market companies who seek an improved ROI from consolidating to a unified or single system HCM platform?
This decision for small and medium sized organizations starts with an examination of whether Best-in-Class, Unified System, or Single System is right HCM system type for your organization. So, what's the difference between these three HCM models? Let's try and demystify HCMs and this common question.
For most business, "best-in-class" is out of reach and (probably) more than is needed. At its core, an HCM system automates HR functions like payroll, benefits, reporting, talent management, workforce management, and more. And it can be either a "unified system" comprised of internally developed and acquired technology OR a "single system," internally developed code based on building all components together.
To get geeky for a second, the realities of technology are that moving to the cloud offers cost savings, efficiencies and ideally better performance depending on your internet speeds. Combine this ROI with the return realized from combining multiple capabilities in one system and your organization is prepared to meet the needs of today with the demands of tomorrow.
When looking at the different options for HCM systems, there are pros and cons of each. The right solution for one organization might not be a perfect fit for another. It's because of the intricacies of every individual selection that we highly recommend conducting an in-depth discovery process before even talking to vendors. This helps everyone get on the same page and better understand the strategic initiatives of the project.
The overall system architecture is one of these considerations and it is helpful to know what your ideal future state looks like, what areas need to be prioritized, and where you are willing to be flexible. Understanding this going in is helpful as information gets overwhelming quickly once the vendors begin showing off all the bells and whistles.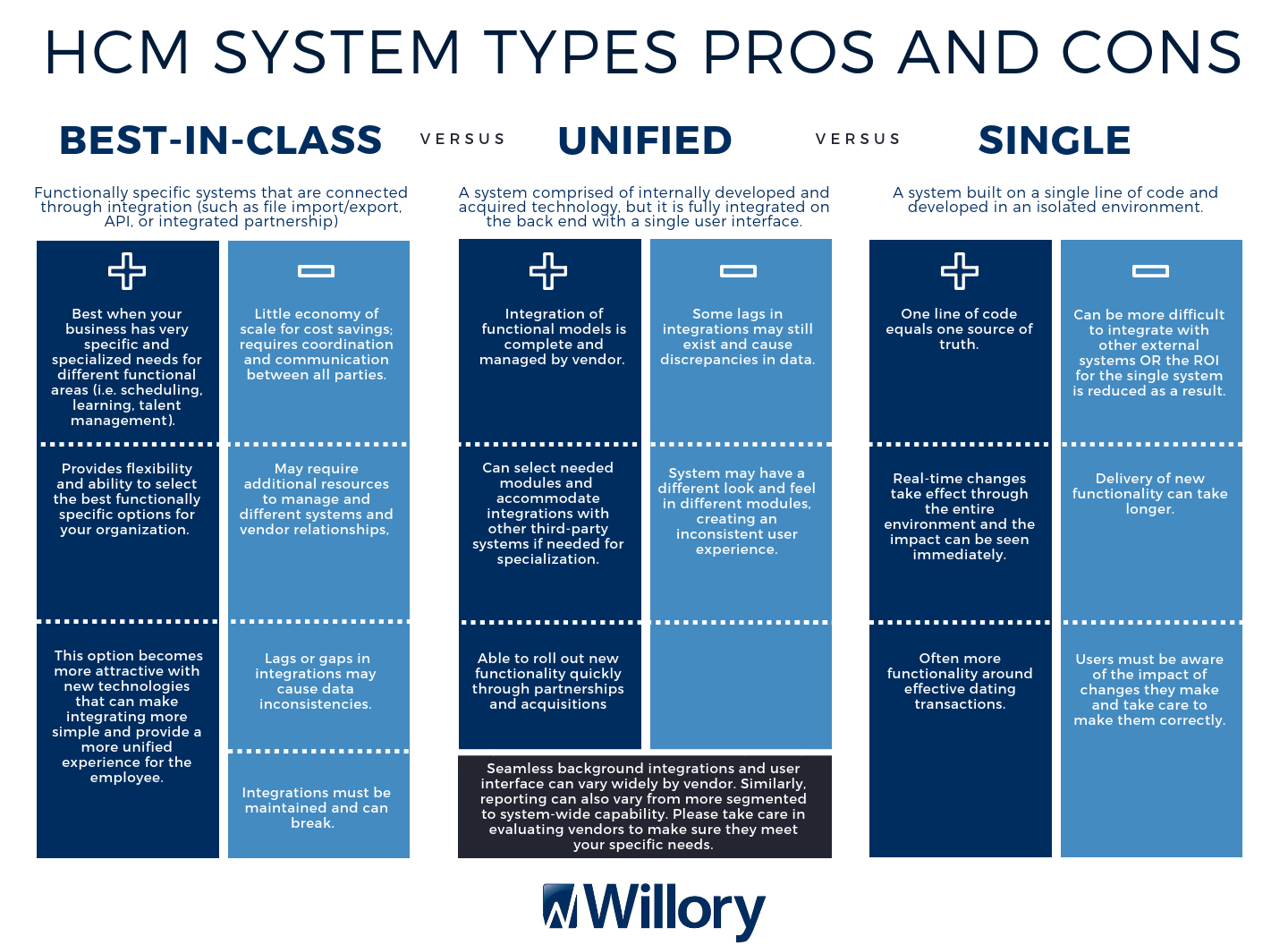 As you can see, best-in-class HCM systems are great when you need a very specific solution (scheduling, learning, talent management, etc.) connected through an API, simple export/import, or another integrated solution. These HCM systems will require maintenance and maybe even additional resources (IT) to manage and different systems. The combined cost is typically more than an integrated or single system approach for the same functional areas for potentially more specialized and cutting-edge feature functionality.
A unified HCM system is often a combination of both internally developed as well as acquired, "out of the box" technology, fully integrated on the back-end with a single user interface. These integrations are managed by the vendor for you. You can select the modules you need now and those you might want to roll out later. Sometimes the look and feel of the different modules (and the user interfaces) can be different and cause a little confusion.
The single system solution is developed from the ground up on one line of code. Data stored in one place is available throughout the system, and changes take hold throughout immediately or with a defined effective date. This can go a long way in eliminating gaps from integrations between functional areas and providing a single source of truth. Because development is organic, new features and functionality can – but not always – take longer to roll out.

Which type of HCM system is right for your organization?
That depends on your organization. It depends on the culture, the business goals, the resources – is both financial and human, and the specific functional requirements needed to effectively hire, manage and pay your employees. Willory's consulting team specializes in helping you decide the right HCM solution for your organization, selecting the right vendor(s), and successfully implementing the HCM system in your organization.
If this blog helped you better understand your HCM system needs you can stay connected with us on social media for regular tips and advice from our team. If you have an immediate need and want to schedule a conversation with one of our subject matter experts you can do that here.