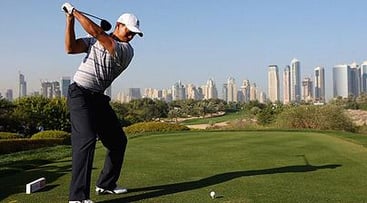 Can you believe it was 20 years ago that Tiger Woods won his first green jacket by winning the 1997 Masters by twelve strokes, less than a year after going pro. It launched a worldwide phenom and a significant increase in popularity for the sport. People saw golf as a more accessible game – it was no longer dominated by the richest and solely white golfers. Additionally, Tiger's youth and exuberance infused energy into the game and its coverage.
As a result, golf courses began popping up, eventually peaking at 16,052 courses nationally. These courses ranged drastically from public courses, to community-developed courses, to country club courses – but it all led to an oversaturation. As of 2015, a "gradual, but steady, market correction" has cut the number of courses by almost a thousand. Now courses in our own Northeast Ohio backyards including Orchard Hills in Chesterland and Acacia in Beachwood have been converted to metro parks by using the cart paths as trails and letting the fairways and greens return to a more natural state.
But what does this have to do with HR and payroll? A lot more than you might think.
While HR technology doesn't have a resounding figurehead to rally the masses, it does have the popularity in our own circles. There are more HR technology solutions (20,000) than there are golf courses in the nation – now or at the Tiger peak.
But quality doesn't always rise in correlation with the number of solutions. While you would hope that an increase in competition would create a market demand that solutions would work harder to improve – this isn't always the case. Many smaller solutions are merely putting the work in to be successful enough to be purchased and incorporated into the larger and more robust solutions – not always to the benefit of the user. Some solutions gain traction and popularity through big advertising investments only to fizzle out and leave companies with a solution no longer supported.
As HR and payroll professionals, we have to be vigilant and understand what the solutions can actually do and educate ourselves of the market and the company stability. We can't be distracted by shiny object syndrome; we have to look for solutions that are able to meet our company's strategic initiatives, tactical demands, with a stable organization able to create a true and long-lasting partnership.
It's with these goals in mind that we've built Willory's HCM systems team. Through our proprietary, custom, and analytical vendor selection process we're able to work alongside clients as they review and select the solutions that truly will allow them to become a progressive and successful organization. Once a system is selected we have the capabilities to also optimize the system to truly fit your needs and ensure you get the best return out of your investment.
We don't want you to own a house on a failing golf course – we want you to feel a true partnership with your selected vendor. Your initial and continued relationship with a solid, world-class vendor is our goal.