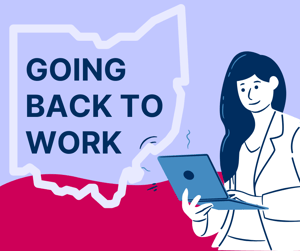 Employers have experienced a lot of changes in the workplace in the past six weeks with stay at home orders causing employers to move to remote work, wear masks, implement social distancing guidelines or lay-off of employees due to sudden economic downturn. In Ohio, our government has taken a phased approach to reopen workplaces and the economy. But even with this gradual approach, are employers prepared to have employees return to the physical work environment?
How do you get employees back to work safely?
For general office environments, this flyer provides the guidance that you need to plan and make decisions on how to get people back to work safely. There are mandatory and recommended best practices for the state of Ohio that provides a roadmap on what you should do.
In addition to those guidelines, what else should you consider in the physical work environment to ensure the safety of all employees?
Physical Environment
First, assess your organization's physical work environment to ensure the workplace is safe and ready for employees to return to the office. Use the requirements established by the Ohio Department of Health to ensure regular disinfecting of desks, workstations, high-contact services and common areas. Other things to consider include:
Determine your approach to wearing masks in the office. There's been some confusion in Ohio on whether it will be mandatory, so make sure you're paying attention to the latest information. Once you establish your requirements, ensure it is consistently applied and reinforced with all employees. If an employee is exempt from wearing a mask, make sure they have a healthcare provider's note approving them to be without a cover.
Develop a method to perform a daily symptom assessment to monitor temperatures, watch for coughing, trouble breathing, or other symptoms that may indicate an employee is ill.
Create a plan for any guest requirements to enter the building.
Create one-way aisleways throughout the building to manage traffic flow for social distancing.
In the bathroom, use sensors on the handles, towel dispensers, and dryers if possible. If not, consider hand sanitizing stations throughout the building.
Add toe pulls on doors to have people open and close doors using their feet instead of their hands.
Making Accommodations
Next, determine which positions are required to come back into a physical environment and which roles can continue to work from home. The Governor has mandated that all employees who can perform work from home are to do so. For those jobs which are required to be in the office, the Ohio Department of Health has established mandatory requirements limiting the number of employees to 50% of the building fire codes maximum capacity.
One of the mandatory requirements is to ensure you are staggering the arrival of all employees and guests
If you have multiple employees sharing cubicle space, establish a plan to rearrange to provide more spacing between employees
Do not have employees share the same cubicle and reduce sharing of work materials
Then prepare and communicate to all employees the requirements and actions you are taking to provide a safe work environment. Provide an opportunity for employees to ask questions and address their concerns. One of the mandatory requirements includes posting signage on health safety guidelines in common areas.
Finally, execute the plan, monitor state guidelines, and monitor the environment to ensure the continued safety of your employees.
Manufacturing, Construction, and Distribution
There are likely additional precautions to undertake when you have employees on a manufacturing or distribution floor. Social distancing and extensive cleaning to ensure that facilities are clean and safe are critical to these industries. The New England Journal of Medicine reports that the novel coronavirus can live on a number of surfaces for an extended period of time. It is more stable on plastic and stainless steel than on copper and cardboard and the virus was detected up to 72 hours after application on these surfaces. [1] Having a regular cleaning schedule daily is an important consideration.
[2] Create operating strategies that include moving to seven days if not already doing so to bring in fewer workers on each shift
Leaving internal doors open so fewer people touch the handles or install toe pulls
Create zones on the shop floor that workers must stay within
Have employees who don't touch the product or supervise work from home
Clean the plant between shifts
Put up shields between workstations if unable to create 6 feet of space between employees
Place tape on the floor to indicate six feet of physical distancing
These are just some of the ideas that employers can consider when planning for employees returning to a physical work environment. We'd love to hear what your organization is doing to ensure the safety of your employees as we work to reopen workplaces.
[1] Amazon Issues COVID-19 Guidelines as Cases are Reported in Multiple US fulfillment centers
[2] Manufacturing Chief Shares Coronavirus Operational Guidelines, CBIA March 17, 2020