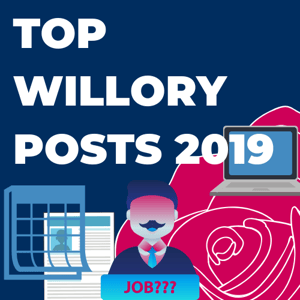 It's that time of year when we take the time to reflect on the past year and see if we can better understand what the future holds for us. 2020 is a massive year for a lot of people, it's the beginning of a new decade after all! Willory is no exception. Next year we plan to release the evolution of our brand and services, our first foray into an HR and payroll product, the first #DisuruptHRCbus, and our TENTH ANNIVERSARY. Before we can get to those exciting moments, let's take a quick look at our top blogs in 2019.
Our top blogs this year are:
This is the only blog that carried over from last year's list. Millennial's and their younger counterparts, Gen Z, sometimes get a bad rep for wanting more than steady work. Gone are the days of employees staying their entire career at one company, or even one career path. The result isn't bad, but instead you now have candidates and employees who are passionate about their work they're doing…and if they're not, they're not applying for your job openings. We predicted in 2019 that this will continue and the result would be employees who care more than ever before. It's safe to say that finding your passion continues to be an important topic for employees at all stages of their career.


Too often people stay in a job because it provides some sense of security. The reality is that often people overstay in roles and don't take advantage of the right opportunities in favor of security. By looking at these four tips, you'll be able to better understand if it's time for you to speak to a recruiter about beginning your job search.



It's no secret that when searching for a new job, time is of the essence. We found that Monday evenings are the busiest times for most job-based websites, so do yourself a favor and don't apply Monday night or Tuesday morning. So what's the best day to apply? I might give away the blog's secret, but it's actually Sunday or early Monday! You'll hit a recruiter's inbox with less applicants.

There's a plethora of HR technology solutions for companies of every shape, size, need, and specialization in the marketplace today. With so many options to consider, it makes sense to get out of the weeds and take a look at HCM systems, big picture. While it takes much more than a blog or a trade show to determine if an HCM system is right for your company, start by narrowing down the system type (best-in-class, unified, or single) will work best for your organization.

I'll admit it, the title was meant to be a bit of click-bait. By capitalizing on the "ok boomer" trend we were able to encourage the conversation around why organizations should consider a flexible work schedule. The desire from employees to work flexible schedules or locations will only increase in the 2020s. Are you prepared?
Willory's offices are officially closed December 31-January 1...we'll see you in the new year!