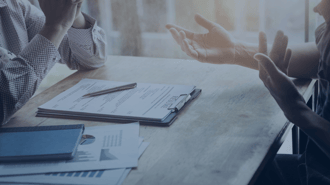 Many of my fellow HR professionals are looking forward to finally putting 2020 behind us. It was a year of turmoil, stress, and everything turned upside down as we navigated through the world of COVID-19. 2021 has already been rife with polarizing events, but there's also new optimism as vaccines are being administered throughout the United States. With it comes the hope that the pandemic might be behind us this year.
We have the opportunity to plan the future of work and how we can innovate and create what HR will look like for years to come. As an HR professional, you have an opportunity to shape the future of HR by focusing on the employees and engage them in a culture that has been forever changed by the work environment landscape.
Now is the time to take inventory and assess where you are and where you want to go.
Auditing your HR function is a good start and can help you evaluate and help you build the path of where you want to go. However, not a lot of HR leaders and professionals take the necessary steps to do this. We tend to review only one of our functional areas where there may be an issue, not the entire department.
What does an HR audit cover?
A comprehensive evaluation helps identify where an HR department's specific practice areas or processes are
Adequate
Legal
Practical
Improvement opportunities.
Audits are a vital way of taking your HR department to the next level. Not only is it a means of avoiding legal and regulatory liability that may arise, but it offers an opportunity to look at the competitiveness of your strategies and evaluating yourself against best practices within the industry. Non-compliance with laws and regulations can pose a significant financial risk. An HR audit is the opportunity to identify issues and find solutions to problems before they become unmanageable.
Why don't people conduct HR audits?
The most common reason I hear is that HR departments don't conduct audits because of the time and resources it takes to objectively look at your HR policies, procedures, practices, and strategies. A traditional audit includes
The time necessary to interview subject matter experts (SMEs)
Review processes and documentation
Best practices research (often specific to your industry)
Develop an objective view of what gaps exist
Identify risks to your organization.
How long does an HR audit take to complete?
Based on your organization's size and finding the valuable time to interview SMEs, I normally see it take 3-4 months to complete the process correctly in all areas of your HR and payroll departments. Throw in holidays and other work disruptions and completing an HR audit can take almost half a year. Then comes the hard part of enacting change.
Time for a new kind of HR Audit
However, just because that's the way we've conducted HR audits for decades doesn't mean it's the only way to assess your policies and processes.
In 2020, Willory revolutionized the HR audit by developing a solution with the launch of How's My HR? This digital offering was born out of our desire to take the traditional HR audit process and automate it into a comprehensive, online survey completed in the comfort of your own home or office.

The assessment covers 13 functional areas of HR and Payroll and provides you with an opportunity to evaluate your own department in less than one hour.
Once you complete the assessment, you can instantly download your comprehensive report that identifies risks, provides functional recommendations, and industry best practices comparisons. In other words, it provides you the opportunity to conduct an HR assessment in a fraction of the time and cost it takes for a traditional audit.

Not only is How's My HR? quicker, more convenient, it's also cheaper. We believe that all organization's should have access to the tools necessary to improve their departments and empower people. This is why How's My HR? only costs $495, about the tenth of a regular HR audit.

Whether you evaluate your department because you want a prioritized list of improvements or because you want to prove your value to organizational leaders, now is one of the best times of year to conduct an HR audit.