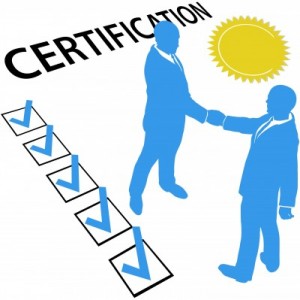 PHR…SPHR…FPC…CPP…SHRM-CP…SHRM-SCP…if you're in the human resources or payroll profession you undoubtedly know what these letters represent. But is there value in these certifications to justify the time and financial investment for both individuals and employers? After spending a good portion of the past year studying for my own SPHR and CPP certifications, I believe more than ever that obtaining certification adds a significant value to HR and payroll professionals and their employers.
The most obvious benefit of acquiring a certification is the knowledge you gain through studying the constantly changing HR and payroll regulations and procedures. A certification not only demonstrates that you know the laws and regulations, but that you understand how to apply the concepts in the workplace. The certification exams have transformed over the years, moving away from exams that focused on memorization of numbers and dates, to more application based exams that assesses concept understanding and the ability to apply it through real-life scenario type questions.
Beyond just passing the exam, certification also requires an individual to have a minimum amount of years of experience in the profession. Upon meeting these two requirements and achieving certification, recipients are instantly identifiable as a "subject matter experts" that have a certain level of knowledge and expertise that, ultimately, carries with it a monetary value.
Learning doesn't stop after passing an exam, each certification program requires ongoing knowledge gathering through continuing education credit requirements. This is imperative for successful HR and payroll professionals to stay abreast of ever-changing laws and regulations. Each year, we typically see HR and payroll laws and regulations introduced or revised and even is more typical when we go through political party changes. Staying on top of these fluctuations is critical to our ability to support organizations and ensure that they are operating compliantly with federal, state and local regulations.
Perhaps the most significant benefit to obtaining a certification is the network of support that you build by becoming a part of local HR/Payroll chapters such as Society of Human Resource Management (SHRM) and the American Payroll Association (APA). There are over 500 SHRM chapters worldwide and 130 APA chapters across the US. These organizations typically offer regular chapter meetings and national annual events that have various speakers and training sessions that provide members with continuing education opportunities. By participating in a local chapter, you have access to a vast network of other subject matter experts like yourself. Networking with other professionals on a regular basis is invaluable in learning what other organizations are doing and what similar challenges they may be facing. You can reach out to this network when faced with a new challenge or project.
Finally, from an employer viewpoint, investing in your HR and/or payroll team by supporting certification provides a direct benefit to your organization is a smart idea. Having a team that possesses a true understanding of current HR and payroll regulations and best practices is so important to an organization. We hear often of various government entities auditing organizations on various areas of HR and payroll including: I9 forms, employee classifications, overtime procedures, FLSA status, tax and garnishment withholdings. Organizations can face significant penalties for failure to follow these regulations. Supporting the continuous education of your HR and or payroll team provides organizations with confidence that their teams have current knowledge of laws and regulations to stay out of trouble.