Yesterday we presented our initial research findings from our first quarter survey of HR and payroll professionals. More than half (54%) surveyed expressed optimism as they say their industry is growing.
Considering the financial optimism, we reviewed yesterday, we wanted to take a few minutes today to examine some of the "softer side" of professional attitudes and activities in HR and payroll.
First off, does optimism in the health of the industries show in an individual's intentions to stay in the HR and/or payroll industry. Nearly 90% surveyed anticipate staying put for at least five years. This indicates that it's safe to continue to invest professional development for HR and payroll professionals.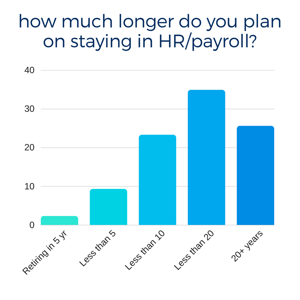 At Willory we believe conducting an employee life cycle evaluation, examining the employee experience from application to retirement, is a critical piece to retention and workplace culture. Organizations we surveyed have indeed invested in"employee life cycle audits" in half of the companies surveyed. As the market changes, Willory urges organizations to take a hard look at their own employee life cycle and improve the employee experience.
Lastly, given the drumbeat of sexual harassment news, we wanted to see if it was impacting behavior at home. A majority of organizations had not addressed their sexual harassment policies as of the time of this survey. While an additional 1 in 5 do plan to make this a 2018 task, it is concerning that this could cause lawsuits as well as employee loss.