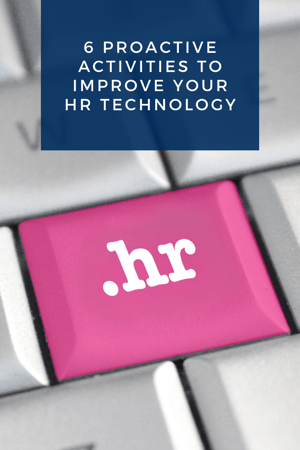 For almost two months, we've been under orders that have changed the way we approach our day-to-day jobs. In those two months, we've seen the rise of remote work and for some people, the ability to put their energy into tasks they weren't doing at the beginning of the year.
With layoffs and furloughs, I know some people have more on their plates than ever before. But for others, it's a matter of finding the most productive use of time when things are anything but typical.
Train
Now is a great time to take advantage of the different training opportunities offered by your vendor. Or, better yet, retake some of those classes you last took at implementation. Chances are you will learn something new.
Have you learned something new during the pandemic from reviewing your vendor's trainings? Let us know below!
Audit
Performing an audit on your system can mean a lot of different things. Essentially, your goal will be to determine opportunities for optimization – whether that's work you do yourself immediately or work with a third-party vendor to do the work for you.
There are a few ways to started:
Review your processes
First, you need to have your processes documented. If you haven't done so yet, make sure you start by writing down the processes and talking with the key stakeholders for each method. From here, walk through each process to determine opportunities for automation, places to modify the process to function within the system better, and review each time there is a hand-off.
Run reports
Do you have "holes" in your data? You might not know until you run a report. This will tell you where you are missing necessary or nice-to-have information. Use this to build a checklist to optimize/update your HCM technology system usage.
Add and Subtract…Information that is
Is there information you wish you had in your system? Start by reviewing the fields you can use, but maybe aren't. If the field isn't there, create a custom field to store the information. You'll want to take the time later to determine if you need a more permanent configuration or if a custom field is enough.
Also, review your job profiles. If you store job descriptions separate from the HCM system, make sure to review the descriptions and add them to your system. I highly recommend moving as many items into your HCM system to create one source of record and increase the ease in which your organization can handle remote work.
Just as important as adding necessary information to your HCM system is removing the information that is no longer serving your organization. Start by cleaning up
Old jobs
Earnings codes
Deduction codes
Additionally, I find many clients don't keep up on purging/archiving terminated employees and might be paying for system access for employers terminated quite some time ago.
Write
We mentioned report writing as a way to start your HCM system audit, but what reports do you wish you had, but have never had a chance to build? What about reports that you consistently have to piece together? Have you reviewed your current reports to understand how they could be better constructed or serve you with more accurate data? By utilizing this time to build more useful reports in your HCM system and setting them to run automatically, your future self will be quite thankful.
Research
How good at you at catching new feature/functionality releases? Vendors and your customer success contact will often send you new releases, but sometimes it's not the best time to learn more about that new release. Past announcements are typically available for you to review from within your system or from their client portal on their website. Also, look for previously recorded webinars that you may not have been able to attend, most vendors record these and publish.
Lastly, don't forget to reach out to your sales rep to schedule a demo of new functions. Not only will that help you plan your next move, but you'll be ahead of the game when it's time for that move.
What other productive activities are you doing this phase? We've heard a lot of great HR professionals are also assisting their networks more. Sometimes that's helping with candidate application and interview preparation or other times it's helping nonprofits – some of the hardest hit organizations – with their HR practices.
Special note for HR leaders and company executives: we recently launched our new product, How's My HR? As an online HR audit, it assesses twelve functional areas in HR and payroll, including your HR technology. The assessment takes roughly 45 minutes from the comfort of your own computer, and you'll automatically receive a comprehensive findings report with customized solutions. Prepare for the future ahead by understanding the areas you're successful today and where you can improve. Included in every assessment is a review session with the experts on the Willory team.