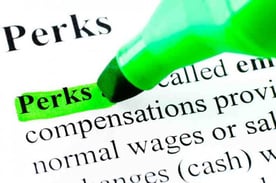 It's getting close to the end of the year and for many organizations this is when raises are being discussed. In the end it's all about how much of a pay increase a person gets, right?
Wrong.
According to Glassdoor's Employment Confidence Survey (Q3 2015), 4 out of 5 employees would actually prefer an increase in benefits or perks as opposed to a standard or equivalent raise. Wait… what? Yes, you read that right; most employees are looking for better perks and benefits more so than a raise. This comes on the heels of major companies announcing they are providing employees with increased perks, such as more or unlimited vacation, increased maternity/paternity leave, and flexible schedules. They also found that younger employees (18-44) are more likely to be interested in benefits or perks than pay raises in contrast to those in the 45-64 age range who may have already earned more vacation time and other perks.
So, what does this mean for you? It means that as you're analyzing compensation packages for 2016, think broader than dollars and cents. Out of the options provided by Glassdoor, we believe the following three could be incredibly successful changes for your organization.
1) Healthcare
We all know this isn't cheap. But take some time to examine whether some of the money spent on raises might be more effective by providing or upgrading healthcare insurance. Forty percent of employees say healthcare is more valuable than a pay raise. Also look into whether you can work with a local gym to offer discounted memberships. By improving the overall health of your employees, you can make your organization an overall better place and decrease insurance rates.
2) Flexible Schedule
Perhaps one of the easiest things you can do is create a flexible schedule. Or even the flexibility to work-from-home. Have faith in your employees getting their work done on schedule and look at the results and not the timesheet. This will take some training to achieve, but great employees are likely to produce even better results when they're treated with respect. We recognize that this will not work for every organization, but for Willory it has been incredibly helpful and helps achieve that coveted work-life balance everyone strives for. It allows us to be present in family life and pursue outside hobbies while allowing us to work hard at "off" hours.
3) Employee Development
We think one of the other major perks that can be easiest to implement and most beneficial to the organization is employee development programs. Work with employees to find out what interests them professionally and how you can align their goals with professional development. It doesn't have to cost anything, it can be as simple as affording employees time to attend free training sessions, attend virtual conferences, or working with them to find a mentor. As intrepid entrepreneur Sir Richard Branson says, "Train people well enough so they can leave, treat them well enough so they don't want to."
All that being said, over half of employees expect to see a pay raise in 2016. As the economy has improved, simply having a job is no longer an incentive for people. The same study looked at confidence in the job market – which is now at its highest point in six years. A majority (54%) of employees believe that if they lost their job they could find a similar job within six months. If you have not already, it's time to reevaluate what you're doing for employees and become competitive in the marketplace – and our consulting team can help with that! This will help you attract and retain top talent.