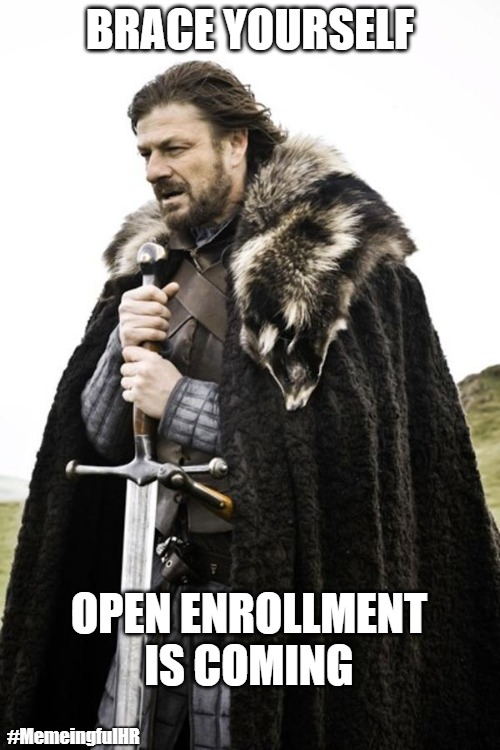 It's hard to believe (and maybe a bit hopeful) that 2020 is halfway over. For the vast majority of organizations, open enrollment will occur in the next few months.
Are you ready for 2020 open enrollment?
Brace Yourself...Open Enrollment is Coming
I think I speak for most people when I say this has been a year unlike any other, but that doesn't stop the calendar from changing. In HR, there's a standard order to how the calendar flows. In January there's W-2 distribution, in March there's handbook reviews, in July there's compensation planning, and between now and the end of they year there's open enrollment planning and updates.
Because of its unique timing and need for resources, open enrollment can often strain resources within HR/Benefits as they research new plans, educate employees, and assist with changes needed. There are two places we've seen organizations needing more resources: technology and staffing.
When it comes to HR technology, it needs to support and strengthen the business. Most HCM systems on the market today have ways of assisting with open enrollment, but those modules aren't always implemented or optimized. By starting your optimization now, your HR technology won't hold you back from streamlining the open enrollment process.
Open enrollment is one of the ebbs and flows in HR business practices that can seriously stress the department. When HR and Benefits doesn't have the appropriate staffing levels to address open enrollment, then it can create a cascading effect that negatively impacts employees and the organization's bottom line. This is a prime time to bring on a temporary or contract resource to assist you in properly, effectively, and successfully completing your open enrollment.
Willory successfully helps our clients prepare for this by optimizing HCM technology and providing temporary support of benefits professionals through our Staff Augmentation offering.
What does it meme?
According to KnowYourMeme.com, this image, popularly known as "Imminent Ned" or "Winter is Coming" originated from HBO/George R.R Martin's Game of Thrones. Depicting Eddard "Ned" Stark, this meme is used to forewarn or proclaim the impending arrival of an event.