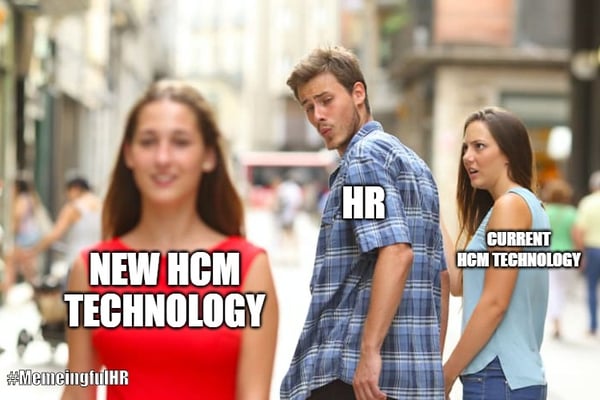 Welcome to the first #MemeingfulHR post! Each week, I'll be exploring the HR and payroll industry through pop-culture memes.
First up: HR's response to new HCM technology
HR is constantly looking for new ways to gain efficiencies and leverages technology to assist with achieving those gains. For a variety of reasons, their existing HCM technology is sometimes unable to meet the demands of their organization. However, not every system is perfect for every organization and even the most popular or robust system won't help your meet goals if not managed properly. When that happens, I recommend companies take the time to see if system optimization is an option or evaluate if it's time to break up with your HR tech vendor. The five reasons organizations look for a new HCM system typically are:
Needs aren't being met

No mobility

Does not compute (slow speeds and bad performance)

No more system support

It doesn't treat you right
Remember, just because an HCM system offers a different user experience, doesn't mean that it will have the capabilities to meet your needs. New and shiny doesn't always mean better.
If you're interested in evaluating your current system and what's out there, please visit https://willory.com/hcm/.
What does it meme?
According to KnowYourMeme.com, this image, popularly known as "Distracted Boyfriend," originated from a series of stock images. It began gaining internet fame in 2017 through Reddit and is known for helping to popularize the meme format called object labeling. This meme typically represents something someone has or should do being ignored for something more desirable or riskier