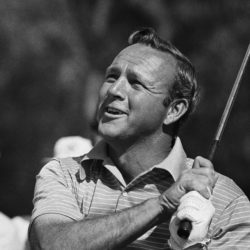 The death of a personal hero or someone you admire can sometimes hit you harder than you expect. While you may have never actually met them, the impact they had on your life is immense and sometimes not reflected on until they're gone. One of my personal icons, Arnold Palmer, passed away earlier this week. Over the last several days I've been thinking about his extraordinary life and how he influenced who I am and want to be.
As many of you know, I love golf and toyed with the idea of trying to go pro myself in my earlier days. Palmer was a natural role model. Not only was he one of the best golfers ever, but also he was a guy who genuinely cared about people – all people. Jack Nicklaus often tells a story about how during a tournament Palmer was giving Nicklaus helpful tips while competing against him! That's right Palmer, was in essence, helping his competitor beat him.
Additionally, whether you like or follow sports or not, its easy to admire a man that was also a giant in both the endorsement and business worlds.
Palmer was known for his approachability. He was always willing to share his autograph with all those who asked. It was this approachability and humble beginnings that helped changed the reputation of golf from a sport for the elite to a more popular sport accessible to all. Kind of like the recent "Tiger effect" wherein the game grew significantly because people identified with the man, leading them to try the sport.
Part of this approachability came from his utter and unwavering sincerity. There are countless stories of people who met him who have said that no matter who you were, if you were talking to Palmer, the focus was on you.
While many focus more on what their reply will be and less on what the person is actually saying, Arnold was deeply attentive. It was his sincerity and genuine caring that allowed him to connect with everyone – kids, blue-collar Americans, CEOs, and politicians.
In a world where celebrities become famous more for their selfies than their actual talents, Arnold Palmer rose above the fray. He was a man who elevated golf while maintaining a down-to-earth personal reputation. He was a leader because of his attributes of approachability, genuine concern, and attentive listening – three skills I work on tirelessly myself.
We may never see him swing another golf club, but we can all honor his memory by engaging with the people we meet. Plus… who gets a drink named after him!