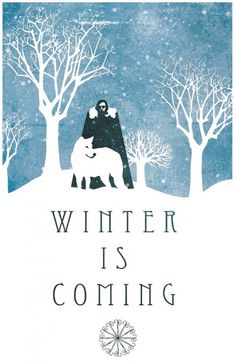 I recently caught up watching Game of Thrones. Most everyone knows that the HBO show Game of Thrones, based on a series of books by George R.R. Martin, follows a multitude of story lines across the fictional continents of Westeros and Essos. It's a world with dragons, beheadings, and exciting and yes, bizarre story lines. So how am I going to connect Game of Thrones to the payroll world?
Core to the show is Jon Snow's warning that "winter is coming." Of course this resonates in early November in the Midwest, as both the anticipated cold air and the early holiday decorations reveal.
As a foreboding warning, "winter is coming" for payroll departments, as this time of the year can be brutal with end-of-year reports, producing W-2s, potentially implementing new system(s)… there isn't a whole lot of time for payroll professionals to do their actual job. Here are some tips to get ready and ride out another winter:
Prepare Your House
Now is the time to get your payroll house in order. As Starbucks' pumpkin spice lattes get replaced by peppermint mochas start thinking and preparing for what needs to be done between now and the end of January. Going into year-end without any preparation is a sure-fire way to have a stressful holiday.
Assess Your Organization
An annual payroll assessment (sometimes called an audit) is a payroll department best practice to ensure your organization is fully compliant and prepared. The law isn't always easy to understand and it isn't always stagnant – most changes in laws dictate changes that your business needs to undertake. A typical assessment takes several weeks. If you haven't done one soon, we highly recommend you commence the process as soon as possible.
Document Your Processes
Document who is doing what and how they do it. Whether it's part of your preparation or part of an assessment, make sure you know how job duties across your payroll department are handled. If this is the first time a new person is handling a procedure, make sure you have as much information on the process as possible. Review it with them and work out any questions.
Ask for help
Asking for help doesn't make you an incompetent employee, it really doesn't. The end of the year is universally one of the most stressful times. If you have absolutely no idea how you're going to get everything done while still doing your day-to-day job, it's time to think about temporary help (which Willory can provide) or working with a project manager to get what needs to be done completed.
Implementation Timeline
It always makes sense to start the new year off by migrating off your old system, right? Not always. Sometimes trying to cram too much into one time frame you are setting you and your new investment up for possible failure. By picking a busy time of year you could be risking a system under-utilization. An underutilized system not only doesn't function the way you had hoped, but you are also wasting money you've invested. For some organizations it does make sense to have a 1/1 "go-live" date. If you have concerns, discuss them with your project team. The key is to have a "healthy" payroll and not just transfer balances between systems hastily.
By thinking about how you want the end of the year to go now, you will be working towards a much happier and less stressful holiday season. If you are in need of additional resources preparing, please do not hesitate to reach out to us.