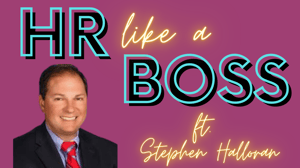 Stephen Halloran is an executive HR leader with an entrepreneurial mindset that incorporates an uncommon blend, breadth and depth of experiences beyond his current HR role.



Interested in contributing to the HR Like a Boss book? Take the survey at http://willory.com/hrlab
Stephen's mindset comes from a collection of experiences in broader business and financial acumen, HR and business strategy development, operational execution and leadership experience, individual mentoring and team development, along with cross-functional and diverse multi-industry experiences in various sizes of companies.
His business management experience has been obtained through executive roles in public and private companies, ranging from small (45 employees) to large (50,000+ employees) which required the use of business growth/ M&A, "turn-around", rightsizing, and cost containment strategies encompassing all areas of HR and Labor Relations, with an emphasis on culture, talent acquisition, performance management, and strategic workforce planning for multi-location operations and aligning individual goals with company objectives to get all rowing in same direction.