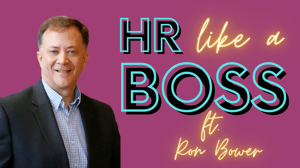 Ron Bower is the founder, President, and visionary behind InterviewPath. After a 27-year career spent primarily in Human Resources roles, he began an HR consulting practice in 2010, Brickpath Group, Inc., and then additionally opened InterviewPath LLC in 2017.



Interested in contributing to the HR Like a Boss book? Take the survey at http://willory.com/hrlab
In his consulting efforts to support companies with recruiting strategy and effectiveness, it became clear that many organizations were unhappy with the strength of their own interviewing practices. It was during this time that it became clear that the market needed a quick, affordable, and easy to use tool to generate interview guides. We believe that InterviewPath is the answer to those needs.
He is an advisor and confidant to company owners, company presidents, C-suite executives and other senior leaders at a variety of companies in multiple industries. He is recognized by business leaders and colleagues as a strategic human resources professional with a passion for delivering results using a practical, no-nonsense approach to solving business problems.