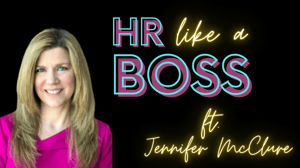 Jennifer McClure is a sought after Speaker and Coach who combines her experiences as a Business Leader, Human Resources Executive, Executive Recruiter and Executive Coach with an educational, entertaining and informative style in order to Educate, Empower and Encourage audience members and clients to unleash their individual potential and enhance their skills as Leaders of People.


Interested in contributing to the HR Like a Boss book? Take the survey at http://willory.com/hrlab
Consistently rated as a top Speaker at major events and conferences, Jennifer's engaging and relatable style is a mix of inspiration, "how-to", sharing of best practices and strategic discussion based upon her over 25 years of experience leading human resources and talent acquisition efforts, studying of industry Best Practices and partnering with senior executives to improve their skills and increase their impact.
Jennifer has spoken at over 200 industry-related conferences and events, where she has delivered keynote presentations and provided workshops or training in the areas of leadership, executive development, presentation and communications skills and talent acquisition strategies.

Podcast
video