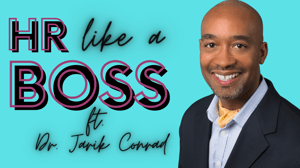 Dr. Jarik Conrad is an award-winning author, entrepreneur, keynote speaker, and executive coach.


Interested in contributing to the HR Like a Boss book? Take the survey at http://willory.com/hrlab
He grew up in public housing in East St. Louis, IL, which has been described as the most distressed small city in America. He went on to earn a bachelor's degree from the University of Illinois, two master's degrees from Cornell University, and a doctor of education degree from the University of North Florida. He is also a certified Senior Professional in Human Resources (SPHR), a SHRM Senior Certified Professional (SHRM-SCP), a certified intercultural sensitivity expert, and a certified emotional intelligence expert. He also holds a certification in Plant-Based Nutrition and is a certified personal trainer (CPT).
Dr. Jarik Conrad, SPHR, SHRM-SCP, leads the Human Insights and HCM Advisory group at UKG, where he works to help organizations put their people first. Immediately prior to joining UKG, he led The Conrad Consulting Group, where he served as an executive coach, keynote speaker, and management consultant. He has held human resources leadership roles in the private, public, and non-profit sectors. He has also been a research collaborator with the Mayo Clinic.

Podcast
video