When it comes to department structures, each organization has the opportunity to make a decision that works best for them. You may spend most of your career working in one structure or you may have experience will all the different HR structures. We wanted to provide a quick recap of the different types of HR department structures and what they mean. As always, each organization might approach each of these slightly different.
Centralized
A single corporate HR office that acts as the main decision-maker across the organization. This allows an organization to scale its central HR function, which creates high efficiency and consistency.
Decentralized
Independent HR functions at separate business locations and divisions. This allows each function to tailor policies to local needs and gain flexibility.
Hybrid
A combination of corporate and local HR throughout the organization. This allows stability at the corporate level and flexibility at the local level for organizations with complex structures.
Outsourced
Companies that hire external resources to manage and perform their HR function. This is not a common model.
There's no concrete answer for which model works best because each one is designed to fit a specific type of organization. Every organization is unique, and it's important to have an HR department and structure in place that best suits your needs.
Commo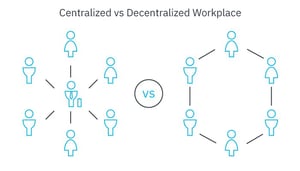 nly, smaller organizations tend to be centralized (or even have no dedicated HR function – which we obviously don't recommend). A Decentralized structure tends to exist in bigger companies where they have independent locations or functions operating under their own HR lead. They often have a local HR presence at each of their sites/locations and have a lot of their own policies, etc. While this does give more flexibility, and it seems like it is more in touch with the specific needs of that group of employees, it can cause obstacles to gaining efficiencies through standardized policies/processes.
Then the hybrid approach kicks in, but it can be a challenge to get everyone in agreement if different divisions are used to operating independently. Outsourcing is definitely an option – but companies should think twice before outsourcing an opportunity to engage with their employees and impact their experience.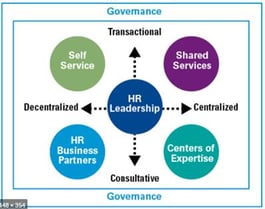 Another structural format we see regularly is Shared Services. Shared Services is a way for HR to streamline/automate work and build credibility through the execution of processes, improve customer experience using digital tools and exception service delivery. They are centralized service centers. The areas of HR that I have seen centralized are when it is more of a call center type environment where employees can call in to get questions or defined processes. The idea is to remove administrative work from the HR function. Some of the functions I have seen include payroll, benefits, leave management, recruitment. Now there is more technology through portals that employees can utilize, and shared services becomes the customer service if there are questions or issues on how to use the technology. It enables the HR function to shift from administrative work from the field (usually multi-locations or large organizations).
The Willory team has worked with hundreds of clients over the years, and we have seen all of these department structures. In each situation, we've been able to provide helpful solutions within our HR & payroll staffing and consulting services.
If your HR department needs help, but you aren't sure where to start, we're launching a new service this spring that might just be perfect for you. How's My HR, our first-ever product and assessment completes an in-depth analysis of your HR department in its entirety. This is a cost-effective tool and a simple way to better understand your pain points and how to go about solving them.
Head over to our How's My HR? page to sign up for more information and to be added to our waiting list for our launch. There may even be a financial benefit to signing up ahead of time 😊.
Sources: