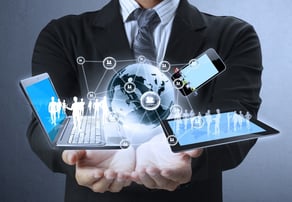 We've heard it… have you? If you believe the experts (and we do), we're currently amid the worst talent shortage since 2007. In 2007 the Blackberry was still the premier smart phone as the iPhone wasn't introduced until mid-2007. If you and your colleagues don't remember that you, then you probably don't recall that talent shortage either.
So now recruiters and hiring managers need to be prepared to make a shift – one from an abundance of individuals looking for work to a world with less candidates with the matching skill sets employers are seeking. The job of recruiting just got harder.
Technology may be the field feeling the talent shortage more than any – which of course impacts the HR world with a shrinking pool of skilled HRIS skill sets and IT recruiting, we know many of you reading this feel it too. So what's a well-meaning recruiter to do to get through this shortage? In a nutshell, gather knowledge, get creative, and work smarter.
The longer version is the following five tips to get through 2017's talent shortage.
Predict the future
What, you don't have a magical crystal ball to tell you the future? That's fine – you do have the Internet. Think of it as the crystal ball you need to learn more about trends. Dig deep to the trends that interest you and have the greatest chance at longevity. By understanding upcoming trends, you can build recruiting channels and programs for those activities. The job might not exist today, but when it does, you'll have already prepared the recruiting stream.
Don't focus on words
It's easy enough to skim a resume and write someone off because they don't have the buzzwords you're looking for. You're better than that. Instead, look for areas that show they'd be a cultural fit for your organization or look for an aptitude for learning. One of the best things you can do in a talent shortage is to think about cultural fit first and provide appropriate on-the-job training second. Wouldn't it be better to hire someone who fits your organization, learns, and stays for a while than to hire someone who ticks off boxes and causes drama in the organization before abruptly leaving? Additionally, don't get too hung up on direct, relevant experience and look for the strengths, skills and talents you need in the role.
Be Creative
There are two main areas you can be creative with right now: recruiting strategy and benefits offered. When you analyze your recruiting strategy, consider active vs. passive candidates. Are all of your tactics focused on active candidates? With a talent shortage you need to attract passive candidates by being where they are – professional associations, networking events, social media groups, etc. – and ingratiate yourself in those places. How do you lure passive candidates once you've been introduced? Provide something they don't typically have now: flexibility. Many people want it in their jobs, but few have it. Flexibility means different things to different people; for some it's an atypical work schedule, for others it's the ability to work from home, and for others it might be to job share.
Employee Engagement
What's the easiest way to keep you from having to hire a new employee? Keep your current employees form resigning. It might mean a change in priorities for your organization, but it's one that can ultimately help in short- and long-term success.
Outsource
Okay, so this one might seem a bit self-serving, but stick with me. It is my job to connect clients with the candidates they're seeking. My career is built on establishing a deep network of talented and respected HR and payroll professionals. My network isn't just a slew of random candidates; it's carefully cultivated to under their skills and the organizational environments they're best suited for. By working with the Willory team, you're working with an award-winning HR and payroll staffing agency dedicated to filling your job opening.
In order to successfully get through this talent shortage, we need to change some of our habits. By doing so the intense feeling of a talent shortage will be lessened and we can continue to effectively complete our jobs.
Want to learn more about working with Willory? Check out our services page or fill out the form below.
[gravityform id="14" title="false" description="false"]