As business professionals, we can't make it to the top alone. Everyone needs a support system – family, friends, colleagues, and mentors – to move up in their career. So if you aim to be successful, you'll need to build relationships and connect with people—not just pass out business cards, network and leave.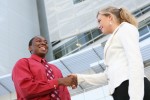 Never Eat Alone by Keith Ferrazzi does a great job of laying out how you can build and form relationships with others that will benefit both parties in the long run. The book does NOT outline networking techniques, with all the schmoozing and brown-nosing glory that comes with it. Never Eat Alone details the value of building relationships.
Ferrazzi outlines several points that will help you build relationships and climb the ladders of success:
• Don't keep score: You need to get what you need and want, but don't be "that guy" who they name streets after (One Way). Be sure your relationships are mutually beneficial.
• "Ping" constantly: Reach out to people all the time—not just when you need a favor. A simple text or call asking, "Hope you're doing well" will work wonders to help stay in touch with pertinent contacts.
• Never eat alone: Being invisible is worse than failing. You must get out, meet people and have conversations.
Other tips in this highly recommended book include being sensitive to other's needs, key tips on body language (uncross your arms, make eye contact that isn't an unblinking stare, and lean in without intruding on personal space), and how to politely end conversations. All designed to help you build a strong network of people who can help you on your road to success.
You can purchase the book at Ferrazzi's website (www.keithferrazzi.com/products/never-eat-alone)