Implementing a new HCM system is a challenging and exciting endeavor for HR and payroll professionals. Too often we have found that the project team tends to focus on the HCM solution vendor selection and core implementation.
And while these might be the two most important phases of successfully implementing your new HR technology system, sometimes the phase of LOVING your system is overlooked: activating additional modules and optimizing the technology for your company.
Hopefully your organization did its due diligence when picking a new system by completing an in-depth vendor selection If so, this process includes demos of the product. Most vendors do an amazing job of showing off their system's capabilities and strengths. Many are even good at addressing their weaknesses.
However, some aren't as great at making it obvious where the Core HR module ends and supplemental modules begin. Remember that really awesome feature that helped you fall in love with your HCM system? It may not be immediately available out-of-the-box.
Having worked on my fair share of HCM solutions implementations (aka activations) and optimizations, I can tell you the biggest factor in determining success is your project plan and how well you are accountable to that plan.
My recommendation to my clients – and now you – is to take the time to truly understand what you want (through the discovery phase of your vendor selection), analyze what it will take to get there, and build in time to breathe.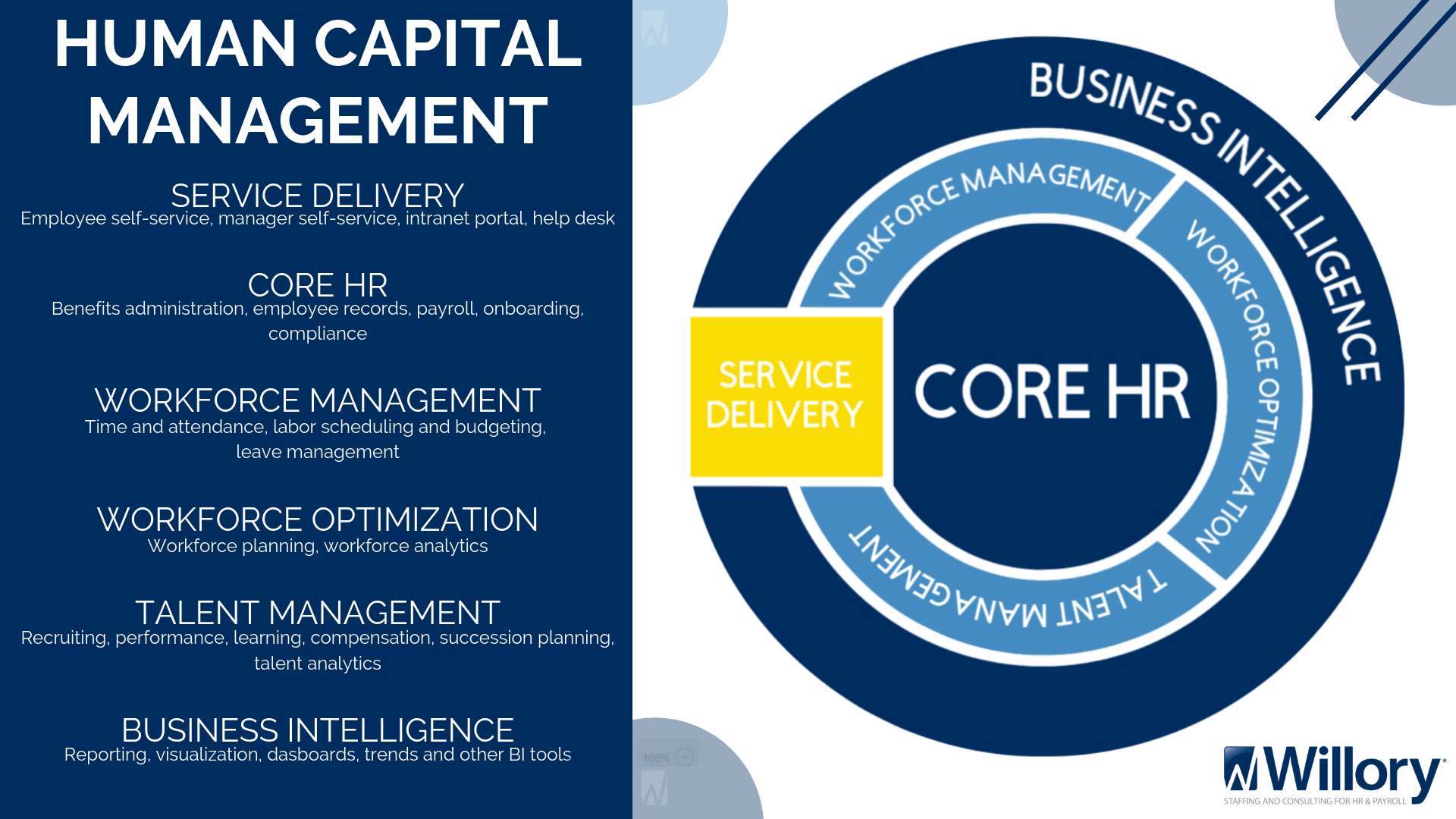 The focus of your activation should be on the core implementation. If this isn't done correctly and with care, adoption of the new technology will be difficult at best. Change management should always be part of your HR technology implementation plan – especially because the technology impacts something most employees hold very dear: their paycheck.
After taking the time to activate your new system, I suggest you take a step back, reward yourself for a job well-done, take a deep breath, and let the dust settle before jumping into adding modules. The last thing you want to do is burnout before implementing what will give your organization an ROI on the system – or come to hate it yourself.
Some of the best HCM systems efficiencies comes from implementing (and optimizing) the additional modules.
If you're looking for a partner to assist with the full-cycle HCM system implementation or specific pain points, our team can provide leadership, functional resources, project/change management, and/or technical consultants. Without a background in HCM solutions, it can be can be tough to be on your own. We have significant experience not only implementing solutions, but the HR and payroll expertise to back it up.
Your HCM system should be the backbone of your department, allowing you to be more strategic and accomplish more in a day. If it's not doing that, then it's time for you to analyze its capabilities to better understand how you can optimize your current system.
So to answer the question posed in the title: both are incredibly important. Core HR has to be activated properly and with finesse before additional modules can be implemented. However, it's in those additional modules that success can truly come from.
Note on HCM vendors: There are over 20,000 HR technology solutions out there – and each one is a bit different. Same with every business. No one solution is perfect for every company (or even every client we work with). It's for this reason that Willory believes in being vendor agnostic. While we have formal and/or long-term partnerships with APD, Ceridian, and Ultimate Software, we believe our clients' success is most important. While other consulting firms profit off working only with one vendor, we do not. This means our advice is unbiased and focused on you.