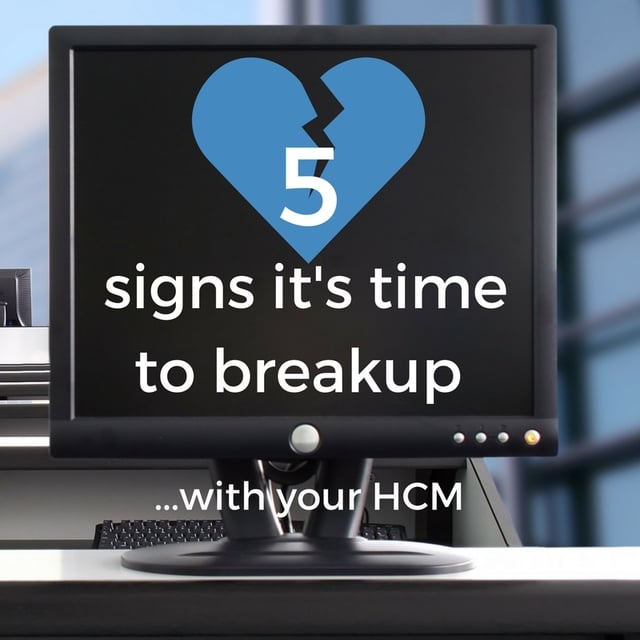 Regardless of the HR technology system you have, it may be time to move on. But how do you know when it's time to take that time intensive and signifi­cant next step? Here are a few signs that it is time to breakup with your current HCM system and build a relationship with a new one.
Needs Aren't Being Met
Needs evolve and operational systems are introduced, grow, and/or move to the cloud. If you're using workarounds more than you use the actual system, it's time to break up. In moving to a new system your goal should be to find and select a more efficient system that serves your needs. Start by developing your list of must-haves, nice-to-haves, and find a system that meets all of those needs and more, because you deserve a better system.
No Mobility
You expect somewhat instant responses from friends and coworkers, right? Of course, it's part of our always connected world. Expect the same from your HR technology. It's time for the system to go, if you're not able to use your HR technology where you are – no matter if it's on-the-go, at the office, or for those workaholics, at home.
Does Not Compute
Crashing, slow speeds, and bad performance all create inefficiencies that cost your business daily. If your system is frustrating you more, or just as much, as it's helping you, MOVE ON! If you hate the system or are habitually frustrated, you're wasting valuable time. Sometimes the more you push an older system, the more issues you cause. Technology evolves rapidly, don't feel that just because you're currently on a system you should remain beholden.
No More Support
Eventually vendors stop providing updates and support. Guess what? They're breaking up with you. It might be one of the few cases where it truly is "not you, it's me," but that doesn't mean you need to get hung up on them. No longer will software updates, patches, or training provided to ensure things run smoothly. You may have some time left on the system, but once you hear something has been sunset, start looking.
It Just Doesn't Treat You Right
Perhaps it's that you have a hard time getting a hold of a person to answer questions. Perhaps the problems are a bit harder to define. Perhaps you just don't like your current system. In many ways, it doesn't matter your reasons, if you're not into your current technology solutions, please look into other options. You know your company and employees best, it's time to use that to your advantage.
Are you ready to look into breaking up with your HCM System vendor? What s next? Click the image below, fill out the form, and Willory will help you through this awwwwkwwwaarrrddd moment. Just remember, not all HCM systems are created equal, we're here to help you find the right fit.