No matter what stage you are at in your HR or payroll career, there is one thing that we all should be doing: networking.
When we attend events or stay active online with people outside of our workplace, this helps our careers in ways we don't even realize.
For some of us, it may seem easy and people refer to us as a social butterfly or someone who knows everyone. Others feel uncomfortable at networking events and avoid them at all costs. That's nothing to be ashamed of because there are more in that situation than we think.
However, none of us want to miss out on an opportunity to advance in our careers because we don't like going. Every professional has distinct skills. For this reason, networking can be so exciting because we feed off each other's knowledge and experiences to push ourselves. Here's some advice for effective networking and how to break out of your shell while successfully developing confidence, successful relationships, and a sense of satisfaction.
When to Network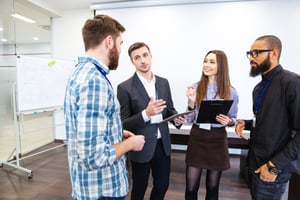 The common goal of networking is to make a strong first impression and provide value. Here are the top tips our team came up with on how you can accomplish this:
Go to events early and make it a point to talk to somebody new. Chances are that others are there early because they also want to network. Have goals in mind with what you want to ask each person you connect with and have your business cards or email accessible.
A great way to end your first conversation while furthering the relationship is to mention connecting on LinkedIn or asking to catch up at a future event you will both be attending.
Invite coworkers or business partners out to coffee or lunch. Even if it's somebody you haven't talked to much before, don't be afraid if you can provide them value. Mention a similar connection such as a person you both know or even a sports team you both like to lighten the mood. This is a great way to get a yes because almost everyone enjoys getting out of the office for a bit. It also makes things less intense since you are not in a work environment. You can typically relate better and not be afraid to discuss with others listening in openly.
If you are networking virtually schedule a quick call after having significant messaging or email communication. Have a reason to call and further the relationship. Chances are you won't be as hesitant to reach out if you are thoughtful and will provide the other person with benefit. They might remember you were the one to help them.
Networking has a time and place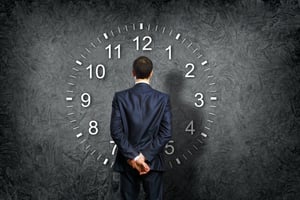 Having patience is the key to successful networking. Saying something when the time or place isn't appropriate might cost your reputation or future considerations. It's not ideal to network in these following situations:
During a break at a stressful meeting. You might see someone you don't get to chat with much, however waiting for the right moment is essential. You can always ask that person at the end of the meeting when they are free to connect. Make a point to be non-disruptive and mindful of others' schedules. This will make you look professional and respectable.
After someone has gotten off an intense call or extended work day, this might be the most difficult for some of us considering we love to discuss our challenges and vent. Remember, it's essential to hold off on an introduction if you are not in your best state of mind.
You don't have anyone to talk to and don't want to look awkward, so you make up a meaningless conversation to fill the space. This often shows and looks unprofessional. It's okay to be new, it's okay for there to be silence, and it's okay to sit back and learn. If you are new to HR and payroll network, we recommend going to your first event with a coworker and colleague.
Pay it forward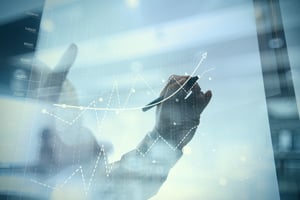 There is a Latin phrase called "quid pro quo," which is known as the "favor for favor" mindset. This is the wrong way to network with other professionals. It's entirely unprofessional and can damage relationships and cause ulterior motives. Of course, we all want to return the favor when someone helps us, but there shouldn't be a cost to that.
It's better to go in with a positive mindset willing to help anyone who you can. If you continuously provide positive energy and are helpful to those around you, eventually you will see others go out of their way to help you too. This mentality creates a domino effect of positive outcomes rather than "you owe me" mindset.
If you want to learn more from our team and their experiences, you can head over to our blogs page to read about other hot topics in all things HR and payroll. We hope to see you at our next event, you can view our calendar here. Make sure to stop by our table and say hi to our team. 😊