This blog is part of a series of five on how each team member has played an essential role in our five consecutive wins of the NorthCoast 99 award.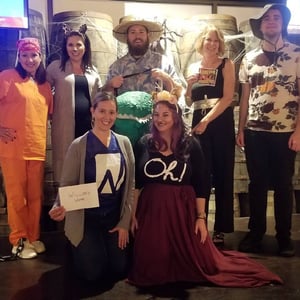 When I interviewed with Willory five years ago, I was looking for an organization that many thought didn't exist. I wanted somewhere that not only helped me succeed in my career and provided better work/life balance, but had a positive culture. I dreamt of somewhere that felt more like a family than people who tolerate one another for the sake of getting the job done.
I remember in my first in-person interview John mentioned that sustaining and building upon the culture was one of the most crucial aspects of hiring new team members. In that moment I was struck by not only how passionate he was for the company, but for the people who made up the team. I remember having a similar conversation with Scott when we interviewed him a year and a half ago. We do not take any of our hiring decisions lightly.
Working for Willory has changed me in many ways, but I think the most significant impact is how passionate I am about a company's culture. I didn't know I would be fiercely protective of our culture. I'm also severely saddened when I talk to friends who experience toxic and harmful workplace cultures. I'm not saying Willory is perfect, but we all care enough to do better with each interaction and conversation.
Just like Willory's culture has changed me, I've changed it as well. I believe an organization's culture changes just a bit with each new addition. In my time at Willory, we've doubled our staff size, updated policies, and are in the process of increasing our accountability to one another. One thing hasn't changed over five years: our focus on a culture that encourages each team member to grow (personally and professionally) while ensuring we function as a connected team dedicated to doing what's right for our clients, candidates, and community.
We're currently in the process of implementing a framework that allows us to scale to the next level, expand our geographic footprint, update our services, and add products to our offerings.
In doing so, we need to update our mission (soon to be purpose statement), core values, and our brand promises. The publication of this blog is very timely because during today's team training, we brainstormed how we want these tenets to look in the future. In preparation for the meeting, we surveyed our team and found some interesting insights:
The most common words used throughout were: passion, honesty, and family.
When describing what they loved about working for Willory, they said: flexibility, variety, positive attitude, and team members.
We all like to make fun of the way John initially said "meme." I won't share it here, but ask a Willory team member if you want to know.
Perhaps you noticed in a blog that is meant to celebrate our NorthCoast 99 win I didn't write much about NorthCoast 99. It's because our culture is absolutely one of the reasons I believe we make it on the list each year and because being a NorthCoast 99 winner is ingrained in our culture. The two have become intertwined in my head. When I think NorthCoast 99, I think about our culture. So you get a blog less focused on NorthCoast 99 and more focused on culture.
Oh, and I put down my thoughts for the blog that goes live tomorrow. I had to come up with something different. Just another day in marketing.
P.S.
Remember when I wrote about coming updates? Part of that includes speaking more with our clients, candidates, and community. I'd love to connect to learn more about HR, payroll, and the role you see Willory playing in the future. If you're interested, please email me at bridgette@willory.com.